May 23, 2013
Keeping Elephants Wet and Concrete Dry
PENETRON ADMIX at the Cleveland Metroparks Zoo
The Cleveland Metroparks Zoo's newest exhibit, the African Elephant Crossing, features a species-appropriate layout and "green" construction certification. PENETRON ADMIX provided a cost-effective waterproofing solution.
Northeast Ohio's most-visited year-round attraction, the Cleveland Metroparks Zoo, recently completed the construction of its new African Elephant exhibit, the African Elephant Crossing. The new facility is four times the size of the former elephant exhibit and can accommodate a socially mixed herd of males, females and youngsters, enabling the different generations to interact as in the wild. Four adult females and one adult male currently call the exhibit home.
The exhibit covers over five acres and recreates two different savannah landscapes, including an elephant-sized swimming pool and a waterfall and wading area, along with an elevated crossing for viewers to observe the elephants in each of the new habitats. The support facilities are large enough to handle up to ten elephants.
LEED Certified Exhibit – an American First
The $25 million project is the first major animal exhibit in North America that meets the LEED requirements for "green" design, construction and operation standards. It was designed to be as energy efficient and environmentally responsible as possible; the design and construction team of CLR Design and Cemrock used their naturalistic environments expertise to create a truly unique habitat.
Taking the African Elephant Crossing project from concept to creation was an elaborate process involving skills ranging from an engineer's eye for detail and precision to form the walls and tie the rebar, to the creativity of an artist to render concrete into shades of natural rock and savannah landscaping.
Cost-Effective Solution
PENETRON ADMIX was used by the construction team to provide an integrated crystalline waterproofing solution for all of the water-related exhibits, including the wading pool, the swimming pool and waterfall.
"Since most of the construction of the African Elephant Crossing exhibit includes the use of the wet process shotcrete applications, PENETRON worked closely with Cemrock in the initial details of placement and curing of the concrete elements," adds Christopher Chen, Director of The PENETRON Group. "Overall, PENETRON ADMIX turned out to be a cost-effective solution for the construction team."
Ashley Mazziotta of CLR Design, the architect for the savannah landscape, commented, "We have had great success using PENETRON for our rockwork in Cleveland, and I know we will be specifying Penetron products in the future."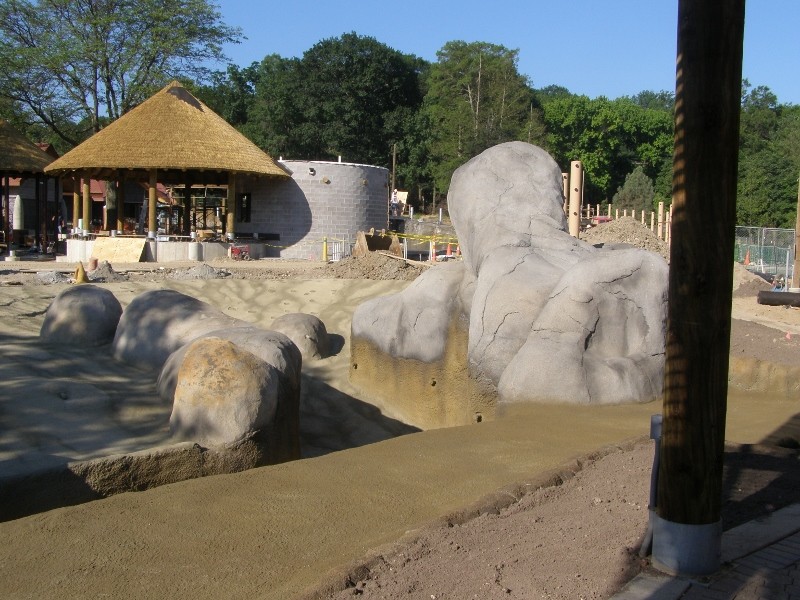 Related Projects