PENETRON ADMIX SB  •  PENETRON ADMIX RP
PENETRON ADMIX SB
CRYSTALLINE WATERPROOFING ADMIXTURE
 
WHAT IS IT?
PENETRON ADMIX is a concrete admixture that lowers permeability, making concrete waterproof with crack selfhealing abilities with added benefits of improved corrosion resistance, freeze-thaw resistance and extending overall concrete durability.
HOW DOES IT WORK?
PENETRON ADMIX treated concrete becomes impermeable by forming insoluble crystals in all pores, capillaries and cracks up to 0.5mm (1/51 inch), resulting in a waterproof concrete matrix – waterproofing and protecting concrete from within.
WHO USES IT?
PENETRON ADMIX is used by every major concrete producer (ready-mix and precast). Ask your Penetron Representative for a customer list.
WHERE IS IT USED?
PENETRON ADMIX is used in wastewater and water treatment plants, marine structures, water containment structures, DOT projects, sewer structures, tunnels, pools, roads and bridges just to name a few.
---
HOW IS IT PACKAGED, SOLD & DISTRIBUTED?
PENETRON ADMIX SB is sold in pails containing 6 soluble bags (SB) of 6.6lb each. Pails reduce loss of material and decrease safety risks.
One product, one size packaging, one complete solution.
Streamline logistics - purchase PENETRON ADMIX SB direct from Penetron and have it shipped from one of our eight distribution centers.
Eliminate distributor lead times and additional fees.

---

HOW IS IT DOSED?
Typically, one 6.6lb bag of PENETRON ADMIX SB is added per cubic yard of concrete (1% by weight of total cementing materials in the mix).
---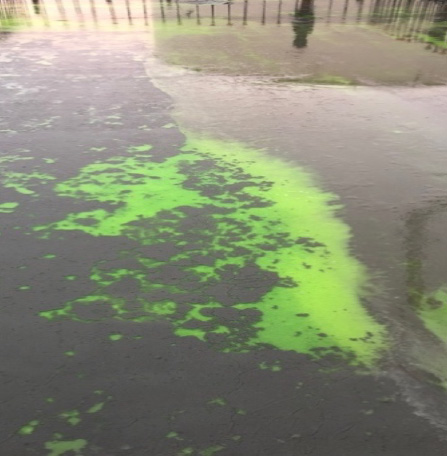 Green Bleed Water
HOW DO YOU KNOW PENETRON IS IN THE MIX?
PENETRON ADMIX SB contains a non-toxic, non-staining tracer that allows for the bleed-water to be fluorescent green, indicating that PENETRON ADMIX has been added to the concrete.
 
IS IT COMPATIBLE WITH OTHER ADMIXTURES?
PENETRON ADMIX SB treated concrete is set neutral in practical conditions. It is compatible with most standard concrete admixtures and cement replacement materials. Penetron always recommends customer trials for their own confirmation.
WHAT PRODUCT SUPPORT IS OFFERED?
Penetron sells directly to concrete producers and with that comes direct support in mix trialing, as well as engineering and on-site support, to ensure full system protection for all involved parties.
 
HOW DOES IT COMPARE WITH OTHER PRODUCTS?

---
HOW CAN I PURCHASE PENETRON ADMIX?
Contact your local Penetron Representative directly or contact our offices.
---
Penetron provides flexibility to your plant.