March 21, 2013
High Tech Tunnel Gets Santo Domingo Going
PENETRON ADMIX and PENEBAR SW-55 enable cutting edge waterproofing solution
The Duarte Tunnel, the newest tunnel in the Dominican Republic also called for the most effective waterproofing solution for the concrete walls: PENETRON ADMIX. The tunnel construction was completed ahead of schedule and on budget.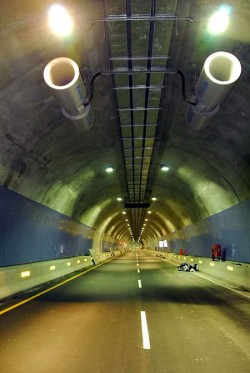 The Corredor Duarte is part of the DR-1 Highway that provides a rapid connection between Santo Domingo, the capital city on the southern coast, and the second-largest city, Santiago and the rest of the northern Cibao region, one of the country's main economic centers. The Corredor was first completed in 1922. Recently, the Ministry of Public Works and Communications financed an upgrade of this road corridor, which included the construction of the Duarte Tunnel.
About 1,200m (ca. 4,000 ft.) in length, the Duarte Tunnel is Santo Domingo's first road tunnel that will play a key role in relieving the chronic traffic congestion that plagues the capitol. Designed and built by an international consortium of Odebrecht América Latina, Angola and Ingenieria Estrella, the Duarte Tunnel is laid out for passenger vehicles and small bus traffic, and was excavated using the "New Austrian Tunneling Method" (NATM).
The "umbrella system" waterproofing solution included PENETRON crystalline products for all aspects of the tunnel project. The NATM calculations of the optimal tunnel cross section allowed application of a much thinner shotcrete layer than is usually applied, in this case, a 25cm (10") shotcrete layer and a 30cm (12") structural layer of in situ cast concrete. This layer is applied immediately behind the tunnel boring machine, creating a natural load-bearing ring and minimizing deformation of the surrounding layers of rock. Finally, measurement instruments are installed to monitor any later deformations resulting from the excavation.
As defined by the ACI in their "Report on Chemical Admixtures for Concrete" (No. 212.3R-10), PENETRON ADMIX is a permeability-reducing admixture for hydrostatic conditions (or PRAH) that was prescribed to reduce the permeability of the concrete walls of the tunnel, even under high pressure. The PENETRON ADMIX was mixed directly into the ready-mix, and PENEBAR SW-55 was used to seal the concrete construction joints. In total, 45 tons of PENETRON ADMIX and 2,300 linear meters of PENEBAR SW-55 were used.
"Both the engineering team and the contractors were very happy with the performance of the PENETRON products," summarizes Christopher Chen, Director of the PENETRON Group. "The products met all waterproofing and durability requirements for the concrete and also enabled a shorter timeline to complete the project."
"The Duarte Tunnel is a showcase project for the Caribbean region and PENETRON is proud to have contributed to an effective solution," adds Robert Revera, President & CEO of the PENETRON Group. "This project underlines our success in projects around the globe and the recognition our products enjoy among the international contracting and design community."