March 18, 2013
PENETRON Admix Adds Security to Upgrade of Four-Acre New York Reservoir
Revamping the OCWA Eastern Reservoir
Increased security requirements for infrastructure and unrelenting price pressure on construction projects are big financial and political issues for municipal governments. The upgrade to the Onondaga County Water Authority (NY) reservoir system illustrates how an effective concrete waterproofing admixture can help meet stringent performance and cost requirements.
In May of 2010, the Onondaga County Water Authority (OCWA) authorized construction of a 32 million gallon water holding tank to serve more than 340,000 residential, commercial, and industrial customers in four Central New York counties. The project, located in Manlius, NY, was part of an upgrade of existing open-air, in-ground reservoirs, converting these into enclosed and protected concrete tanks to comply with anti-terrorism legislation requiring infrastructure to be secure against sabotage. At present, the OCWA provides approximately 40 million gallons of treated potable water.
Enormous – and now waterproofed
"The previous open-air reservoir had become a security risk and needed to be converted into a secure facility," explains Christopher Chen, Director of The PENETRON Group. "What the OCWA built was enormous. It's the largest tank built by DN tanks in the entire eastern region of the U.S.A."
The water tank construction – spread over more than four acres – included PENENTRON ADMIX waterproofing agent in the ready-mix concrete. The PENETRON ADMIX crystalline waterproofing agent is a blend of Portland cement, very fine treated silica, and active, proprietary chemicals. Mixed with fresh concrete, it triggers a catalytic reaction to form a non-soluble crystalline structure throughout the pores and capillary tracts of the concrete, sealing it tightly from water or liquid penetration.
"PENETRON ADMIX was chosen because it met all requirements of the OCWA Eastern Reservoir construction," adds Chen. "It enables the concrete to resist extreme hydrostatic pressure from either the positive or negative surface of the concrete slab and can seal hairline cracks up to 1/64" (0.4mm) wide."
As defined by the ACI in their "Report on Chemical Admixtures for Concrete" (No. 212.3R-10), PENETRON ADMIX is a permeability-reducing admixture for hydrostatic conditions (or PRAH) chosen to provide waterproofing and long term durability for this project while contributing further technical advantages:
Saves man-hours: simply introduced directly into the ready-mix concrete
Eliminates need for membranes and coatings
Non-toxic: NSF 61 certified and suitable for potable water applications
Helps avoid vapor pressure build-up: renders concrete highly resistant to aggressive chemicals while allowing air to pass through
Impervious to climate: higher concrete durability eliminates damage from freeze/thaw cycles and scaling degradation
"Climatic issues, such as exposure of the concrete water tank, were major factors in the OCWA reservoir project," notes Chen. "The waterproofing technology of PENETRON ADMIX helps concrete resist damage from freeze/thaw cycles, cracks and even spalling. This increases the durability of the concrete, effectively lowering maintenance costs."
The technical background
Unlike metals, concrete is a porous material that can deteriorate after repeated freezing and thawing. When freezing water expands, the expansion pressure will exceed the strength of concrete, leading to ever-larger cracks. Its porosity permits water, salts, and other aggressive compounds to infiltrate the concrete, eventually coming in contact with the steel reinforcing bars. Over time, this leads to a significant reduction of the rebar area, causing loss in tensile strength of the concrete.
When PENETRON products are applied to concrete, the chemical reaction that follows creates insoluble crystals that fill voids and cracks in the concrete. This is not limited to the period after the initial setting of concrete. When water is no longer present inside cracks, the crystals lie dormant. As soon as water reappears, however, the crystalline growth resumes and water cannot pass through these new micro-cracks. This ensures that the concrete remains waterproof throughout the life of the structure.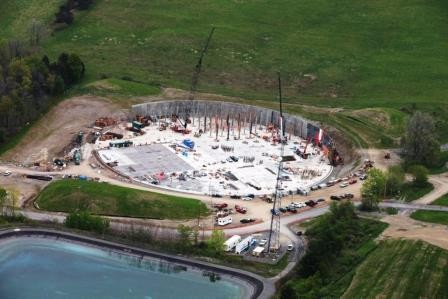 Related Projects