April 29, 2014
PENETRON Durability for Huge Bridgestone Tires
Phase one construction at Bridgestone's newest U.S.A. off-road radial (ORR) tire plant in South Carolina is now complete. The new site counts on PENETRON crystalline technology for concrete durability – to keep the tires rolling.
Used primarily for large exploration and transport vehicles utilized by the petroleum and energy industries, off-road radial (ORR) tires can be really BIG. Bridgestone, the world's largest tire and rubber manufacturer, previously produced its large and ultra-large ORR tires exclusively in Japan. Thanks to the increasing global demand for mineral resources, the construction of the new ORR plant in South Carolina is a key step in the company's global strategy.
Construction of the new 1.5 million-square-foot ORR manufacturing facility began last year, along with a 474,000-square-foot expansion of the existing passenger (PSR) and light truck (LTR) tire plant and another 266,000-square-foot expansion of the same plant. These three projects represent a 1.2 billion dollar investment that adds over 850 jobs to the Bridgestone workforce.
Big Tires, Big Plant
Unsurprisingly, the dimensions of this new ORR manufacturing facility in the Sage Mill Industrial Park in Aiken County are also oversized: the facility is about a half-mile long and provides one million square feet of production space alone.
PENETRON ADMIX SB was used to treat almost 35,000 cubic yards of concrete for the construction of all below-grade structures, including a 6-foot thick base slab and 4-foot thick foundation walls. The visual verification of our PENETRON ADMIX tracer, which leaves a green tint in the concrete bleed-water, provided the client proof of PENETRON crystalline technology in the concrete.
Cost Savings That Could Not Be Ignored
The project was designed by Barge Waggoner, Sumner & Cannon from Nashville, TN, together with the engineering team from Gresham Smith & Partners and the Teasley Services Group. To ensure on-time delivery of the concrete needed for a project of this size, the concrete supplier provided two concrete plants to keep the Brasfield & Gorrie construction team busy.
"We provided the client with a remarkably cost-effective solution for the project," explains Christopher Chen, Director of The PENETRON Group. "A competitive product was originally specified, but PENETRON offered a better solution – including the tracer admixture in soluble bags to simplify mixing. This resulted in substantial cost savings that could not be ignored."
Bigger and Greener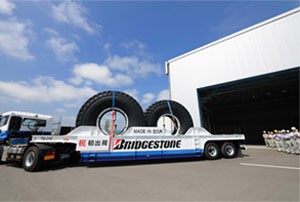 This Bridgestone ORR plant includes numerous sustainable features that won the project a LEED Silver certification, becoming Bridgestone's second LEED-certified facility and the second LEED-certified tire manufacturing facility in the world.
"We worked hard to find ways to be more environmentally sustainable in our policies and practices," said James Vaughn, Aiken County Environmental Engineer at Bridgestone. "The new, more environmentally friendly processes at our new facility will have a positive impact on our environment and our costs by reducing waste and use of resources."
The PENETRON Group is a leading manufacturer of specialty construction products for concrete waterproofing, concrete repairs and floor preparation systems. The Group operates through a global network, offering support to the design and construction community through its regional offices, representatives and distribution channels.
For more information on PENETRON waterproofing solutions, please visit penetron(dot)com or Facebook.com/ThePenetronGroup, email CRDept(at)penetron(dot)com, or contact the Corporate Relations Department at 631-941-9700.
Related Projects