January 30, 2013
Penetron Restores Ohio's National Road Bikeway Tunnel Using Crystalline Waterproofing
PENETRON waterproofing technology provides an innovative solution
January 16, 2013 – Water leakage and dangerous ice build-up threatened use of the popular National Road Bikeway tunnel in St. Clairsville, Ohio. PENETRON waterproofing technology was a key element of the construction team's innovative solution.
Originally constructed in 1902 as a railway tunnel to transport coal and manufactured goods by rail, the National Road Bikeway Tunnel was converted to a "rails to trails" bike path in 1998. Traversing the heart of the picturesque city of St. Clairsville, Ohio, it quickly became popular among the city's residents and is a well-used path for cyclists, walkers and joggers
"The National Road Bikeway is more than an asphalt path through the city. It joins people, parks, and places," explains Dennis Bigler, Director of Public Services at St. Clairsville. "The Bikeway's transportation, economic, educational, social, and recreational benefits have provided a positive influence on our city for years, and now the city wants its Bikeway back."
However, the 532-foot (161m) long, 40-foot (12m) high bike tunnel was plagued with water leakage and, in colder months, ice build-up, making the tunnel unsafe. Often, people had to watch out for chunks of ice – due to water drainage and penetration problems – that fell from the ceiling of the tunnel. Also, ice patches up to one foot thick would form on the surface of the bikeway, creating a hazard. It was decided to rehabilitate the tunnel, a central part of the National Road Bikeway.
An innovative solution
The construction teams of Suburban Maintenance and Johnson Western Gunnite worked together to complete the rehabilitation. Initially, the plan called for reinforcing only the uppermost portions of the tunnel without addressing the fundamental water problems. Lachel Felice, a tunnel engineering firm, worked with the construction teams on a proposal that not only reinforced the entire tunnel, but also solved the overwhelming drainage problems to prevent any future water penetration and damage.
This proposal, accepted by the city, integrated waterproofing technology from PENETRON using crystallization to waterproof both the previous concrete structure as well as the new liner. The Suburban Maintenance Co. first applied the PENETRON slurry over the existing concrete liner and installed the new rock anchors. Following an activation period for the crystalline chemistry of the PENETRON coating, a drainage system was installed where active leaks from large cracks in the existing liner persisted. Finally, PENETRON ADMIX – as PENETRON ADMIX Enhanced Shotcrete (PAES) – was used to treat the new reinforced shotcrete layer that formed the interior surface of the tunnel. The results exceeded the engineer's expectations.
"This innovative solution for the tunnel eliminated the water runoff problems – and upgraded an important part of our city's parks and infrastructure," noted Bigler.
"The National Road Bikeway is a perfect example of the effectiveness of the shotcrete process when combined with the PENETRON waterproofing technology," adds Christopher Chen, Director of The PENETRON Group. "Thanks to the flexibility of the PENETRON crystalline waterproofing, this project was a total success."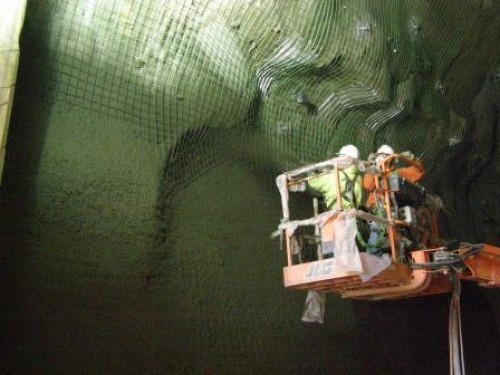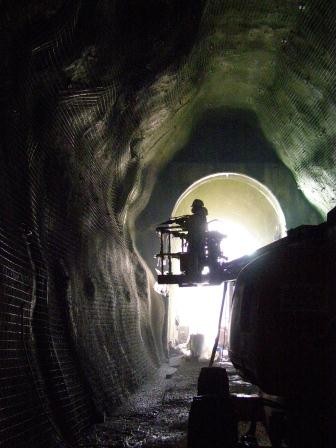 For more information on the National Road Bikeway: http://ohiobikeways.net
Related Projects